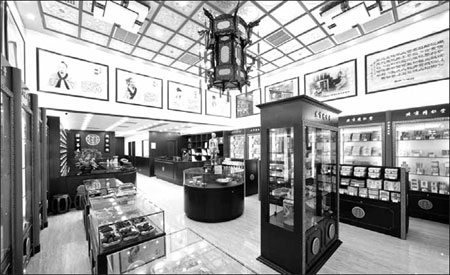 A typical Tongrentang store also serves as a showroom for the culture behind traditional Chinese medicines. Provided to China Daily
Tongrentang, the nation's best-known producer and distributor of traditional Chinese medicines (TCM), is promoting Chinese notions of healthcare through offering services to people in foreign countries.
This century-old company based in Beijing began overseas operations in 1993.
Since then, it has opened 66 outlets in 16 countries and regions that offer medical services to more than 20 million people. As a result, this brand is known to more than 100 million foreigners.
Just like its outlets in China, Tongrentang's overseas operations are a combination of pharmacy and clinic, where doctors make diagnoses and give prescriptions to customers.
Many foreigners have even developed a strong love of the Traditional Chinese medicine after receiving services from Tongrentang.
A South African advertising designer who has suffered from weakness of lower limbs for 15 years had his last try in a Tongrentang store in Dubai in 2010. He was advised to have a massage and acupuncture therapy by a Chinese doctor there.
After two months of treatment, this man was freed from the confinement of a wheelchair. He was so grateful that he volunteered to design an ad for Tongrentang that is now used for promotion in many countries.
The recognition of traditional Chinese medicines is not easy at all in many countries, but Tongrentang has made every effort to persuade foreign citizens and administrators to realize their effectiveness.
In 2009, the Australian drug authority deemed that the saffron flower is a forbidden ingredient in the country.
A number of medicines that Tongrentang produces and sells contain the ingredient, the effectiveness of which has already been proved in the Chinese market.
Therefore the company cooperated with experts at the Australian Society of Traditional Chinese Medicines to produce a research and test report to the drug authority. The latter finally agreed to a re-evaluation.
Despite the uneven road of development, the company is confident about its global expansion.
Ding revealed that the number of Tongrentang's overseas outlets is expected to reach 100 by 2015.
In addition, Tongrentang TCM museums will be built in about 20 countries and regions, helping people overseas better understand not only the quality of its products and services but also the unique culture behind traditional Chinese medicines.